March 1, 2011
ESPN's "Paddle Royale"
By Jake Howard – ESPN Action Sports
"It seems that everybody around at the beginning of stand-up wants to claim that they were the one that started the whole thing," writes Dave Kalama in a recent blog. "Who cares, no one's giving away awards for the person responsible for it all … We know there will never be an honorable mention in the Surfing Hall of Fame, they can't stand us."
People with Paddles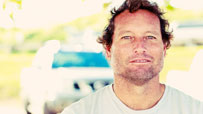 The crew taking stand-up to the next level … Gallery

Kalama's point is that, with or without the blessing of a snide and cynical mainstream surf culture, the evolution of stand-up paddling has been a group effort, not singularly attributable to one "inventor." He goes on to credit Hawaiian beach boy John Zapotaky, the great Duke Kahanamoku, Laird Hamilton, as well as the peoples of ancient Polynesia and Peru for the vital roll they've all played. Ultimately he contends that as long as he's getting in the water regularly notoriety matters little.
But whether you're a staunch advocate or a hater of paddles in your pond, what's undeniable is the sport's immense reach. In less than ten years since its inception, a SUP world tour's already into its sophomore season, and has it's first world champ in young Maui talent Kai Lenny. Plus, given how well competitors recently handled huge Sunset, it's not just a sport for old men looking to tone their abs. Stroking's not just something for Baby Boomers, rather there is also a hard-charging, youthful "high performance" element in play too, as evident by what Lenny, and Maui cohorts Slater Trout and Connor Baxter are doing.
But it's the waveless world that has really taken off, and I'm not just talking about the hip new trend of SUP yoga [gag]. Given that there's a lot more flat water around our country than there is pumping surf, maybe that kind of makes sense. The paddle's done what wave pools were never able to: bring surfing to the heartland.
On bright sunny days paddlers swarm rivers, lakes, inlets, harbors, pools and ponds like broom-wielding locust. The whole "work out" part of SUPing's morphed into its own animal, complete with a plethora of respectable events around the U.S. and Hawaii (most notably Rainbow Sandal's Battle of the Paddle and the Hennessy's Race Series), its own thriving mini-industry, and a slew of Ironman-like apex predator athletes. Heck, there are even soldiers in Baghdad sweeping the Tigris.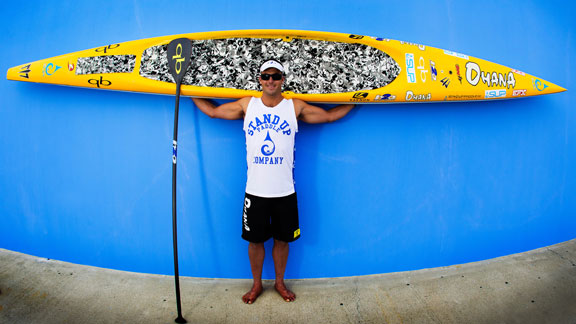 All told, the cross section of humans fronting the SUP race scene are considerably more eclectic and diverse than their brethren in the ASP ranks. For little to no financial or career reward, they spend hours on the water blitzing through downwinders and handling arduous cross-chop channel crossings. Among those committed to the cause, a female fighter fighter, a Peahi pioneer, a traditional paddling legend, and an ex-extreme skier. Throw a California Fish and Game Warden and a hot young kid from Maui into the mix, and you've got yourself a workin' man's paddle royale. The accompanying collection of photos is something that was put together specifically to put some of these guys and girls in context and give a little credit where credit's due.
"Every time we get together we always find stuff to do," tells Jamie Mitchell of a recent trip to visit Kalama on Maui. "We can talk about anything to do with paddling, SUP surfing, technique, how we're training, what we are doing to improve, nutrition and how we can get better. But we want to kick each other's ass at everything as well. We are, how shall I say, competitive with each other. It's a good thing. I think we thrive on it."
It's the juxtaposition of competition and camaraderie that's helped elevate stand-up paddling into a legitimate sport. Because it's like Kalama concludes, "I might not be 'the guy,' but I am the guy that's on the water as much as anybody, which is good enough for me." And isn't that what's all about in the end anyway?
News Source: ESPN.com